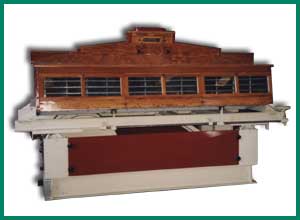 PADDY SEPARATOR

The paddy separator thoroughly separates husked rice from paddy. It functions so well thanks to its solid stainless steel structure, the separation chamber made of hardwood mounted on wheels with ball-bearings. The many years' experience of the machine constructor in this sector is also very important.

The paddy separator operates as follows: the rice is introduced into the hopper which distributes it evenly into the separation compartments.

The rice is then launched by the oscillation of the machine against the specially shaped chamber walls. The dehusked grains pass on to the next stage while the paddy is collected elsewhere. The separation can be regulated during machine operation either by changing the inclination of the base plate using the central regulating device or by changing speed using a variable speed drive or conic pulleys.